Fresh out of a University of Calgary research program, our unique petroleum fluid reservoir residence time age dating technology is the most fundamental missing piece for constraining the accuracy of timing of petroleum system models.
What we offer
Over the past 6+ years, a research team at the University of Calgary has joined forces with industry to develop technology that will provide absolute timing of petroleum reservoir charging. The background information can be found elsewhere [1].
In a nutshell, the extent of natural radiation alteration of a petroleum fluid can be estimated via molecular markers, and this information is translated into the petroleum reservoir residence time of the fluid. In this system, the radioactivity control provides a geological. Up until now, petroleum systems models have been largely unconstrained regarding the absolute timing of the oil charge into a given reservoir, as there were no reliable ways to estimate such parameter from oil samples or reservoir rock matrix analysis.
Maturing technology. We have proposed a radiolysis based method to tackle this challenge. Although there is still a big research component of our method required and currently ongoing, early results have been proved very useful to those who had early access to it. LysisLogic Scientific Inc. makes available this innovative approach to provide answers to your proprietary exploration and exploitation questions, and is now accepting requests for the analytical services, interpretation and geochemical consulting that we offer regarding this topic.
---
How does it work?
Contact us and let us know which petroleum plays you want to submit for petroleum residence time age dating assessments. Here is how our technology can be useful to you:
Decoupling charges and migration pathways, where different scenarios would fill reservoirs in different time spans.
Extracting the maximum information on the petroleum system when minimum fluid occurrences are available.
Constraining petroleum system models.
Our team will have a briefing with yours, then a game plan is designed based on sample/data availability.
Our method outputs are quite straightforward to interpret. Your samples are positioned within the plot below, and several inferences regarding their reservoir residence times will be made possible. As with most things in science, the devil is in the details, and our team will guide you through your results to make sure they are meaningful and useful to your company.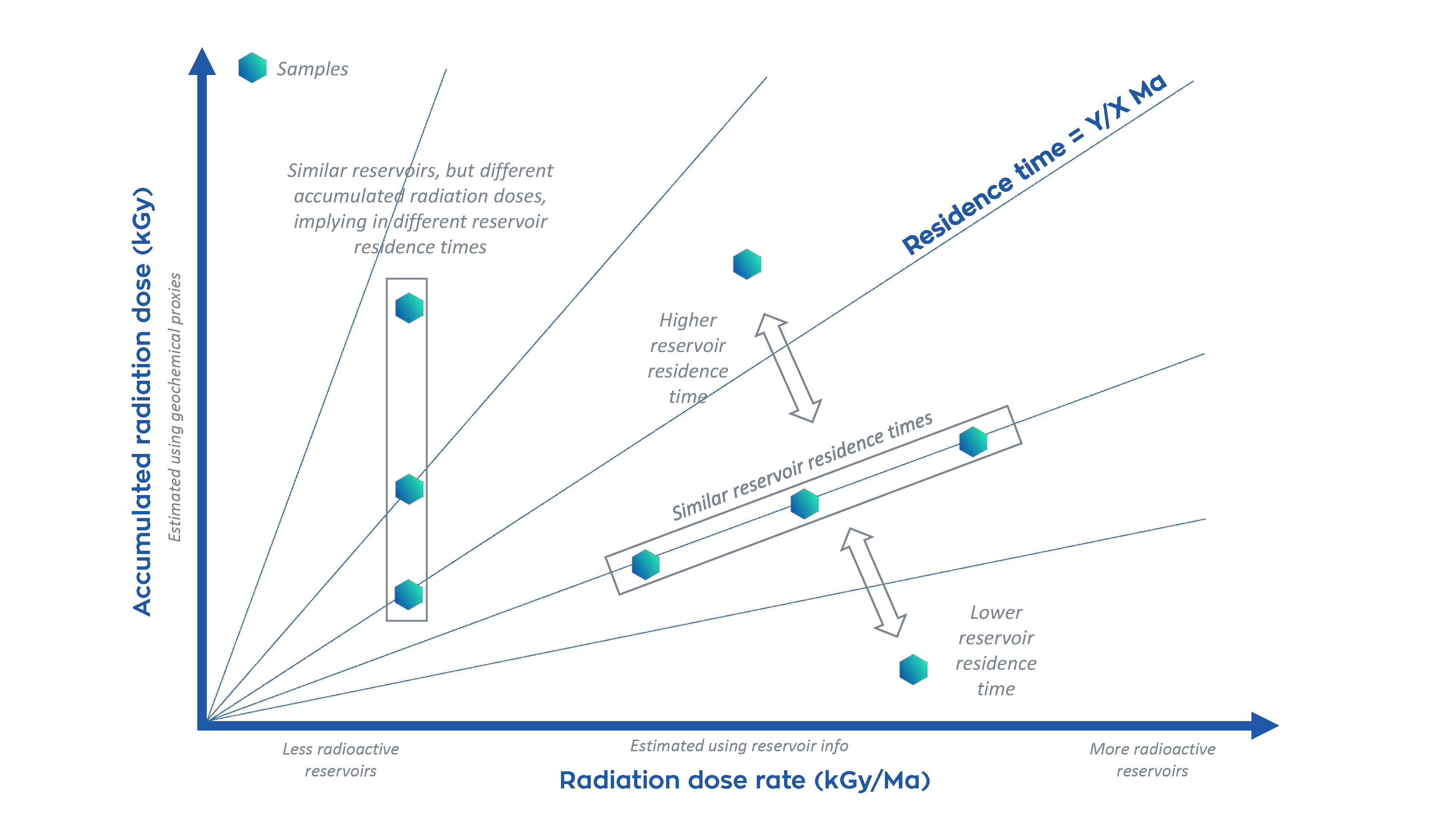 ---
Pricing
A typical project with a dozen samples will fall within the range of CAD$ 70-120k with varying turnaround times. Clients will get the most value if an extended geochemical assessment, conducted by our team, is included. If no sample information is provided, we can still run our methods and provide customers with the numbers. However, having no supporting information means our capability of troubleshooting is limited. We are flexible and reasonable, so feel free to contact us for general inquiries anytime.
---
What information/material is required?
Produced or DST oil or condensate samples. Future technologies may use core extracts.
Gamma-ray well logs and/or radionuclide abundance if measured.
General reservoir properties (can be estimated if not available).
---
References
Steve Larter, Renzo C. Silva, Norka Marcano, Lloyd R. Snowdon, Eduardo Villarreal-Barajas, Roshanak Sonei, Lydia C. Paredes Gutiérrez, Haiping Huang, Andrew Stopford, Thomas B.P. Oldenburg, Jing Zhao, Priyanthi Weerawardhena, Michael Nightingale, Bernhard Mayer, Jon H. Pedersen, Rolando di Primio. (2019) The dating of petroleum fluid residence time in subsurface reservoirs. Part 1: A radiolysis-based geochemical toolbox. Geochimica et Cosmochimica Acta, 261, 305-326.
Renzo C. Silva, Lloyd R. Snowdon, Haiping Huang, Michael Nightingale, Veith Becker, Stephen Taylor, Bernhard Mayer, Jon H. Pedersen, Rolando di Primio, Steve Larter. (2019) Radiolysis as a source of 13C depleted natural gases in the geosphere. Organic Geochemistry, 138, 103911.